Bluetti AC200P Product Review – BLUETTI is striving to offer cleaner, quieter, more stable, and high efficient Power Storage Products to solve the power shortage, energy waste, and environmental pollution problems. Maxoak Bluetti AC200P is developed based on this mission, it replaces the traditional gas generators without annual maintenance, noise, and carbon monoxide emission risk.
Bluetti AC200P Product Review
The AC200P is an incredible solar generator with great capabilities, ideal for occasional use such as camping, tailgating, and festivals, and is also a perfect emergency backup solution for homes, disaster situations, and medical devices.
2000Wh/2000W, BLUETTI AC200P is a power monster. You can use AC200P for home backup in case of unexpected power outages, or use AC200P as a clean sun-powered generator for van lifer. It can also keep your power tools running for outdoor work.
Huge Capacity:2000Wh , AC inverter load: 2000W (Pure sine-wave), Surge 4800W, Charge 90% device
Safer 2000Wh LiFePO4 battery cell and 3500+ long cycle life
700W/35-150V@12A(Max.) wide solar array charging
Fast Dual AC charger(1000W,2.5-3hrs) / PV+ AC(1200W Max.,2.2-3Hrs) recharging simultaneously
Customized DC12V/25A RV port for Van-life/Diy'er
Recharge from AC wall outlet/ Solar panel/Vehicle/Lead-acid battery/Generator
Charge 17 devices simultaneously.
BLUETTI AC200P Features
1. Unique "BLUETTI ECO" Power Saving Mode
Their unique "BLUETTI ECO" mode can prevent up to 50% of wasted electricity loss. It will automatically power down when the output load is lower than 50W for 4 hours, just in case you forget to turn it off. it helps to reduce the power wasting and maintain a longer discharging time.
Tips: you need to choose "BLUETTI ECO" mode manually on the LCD screen.
2. Dual AC adapter Fast recharge in 2.5-3Hrs
Normal Recharge: you can use one AC adapter to recharge AC200P fully in about 4.5-5Hrs.
Fast Recharge: Recharge via dual AC adapter (total in 1000W) simultaneously which takes About 2.5-3 hours!
NOTE: only one adapter is included, the customer needs to buy the second adapter+DC7909 to XT90 cable separately for dual adapter recharging).
3. 700W Solar+500W AC Recharge in 2.2-3Hrs
Need to top up fast? No problem!
Recharge via 700W solar panel (actual input solar power) and the attached 500W AC adapter simultaneously (total 1200W) which takes only around 2.2-3 hours to fully recharge the AC200P.
Tips: The MC4 Solar charging cable (MC4 to XT90) is included in the package.

Bluetti AC200P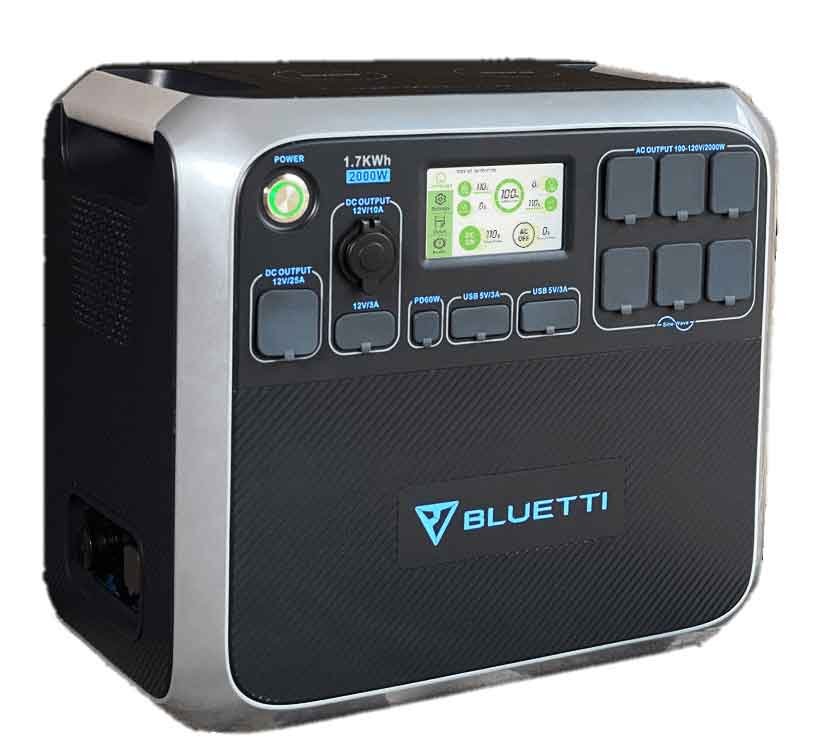 Bluetti AC200P
Price: $1,799.00
The Bluetti AC200P portable solar generator is launching in Late 2020! As one of the biggest names in the portable, solar generator space, Bluetti appears to have done it again with one of the most anticipated solar generators of this year!
BLUETTI AC200P Specifications
Traditionally, solar panels are inefficient and slow to charge without heavy sunlight. The BLUETTI AC200P overcomes these preconceptions with a max 700W solar input allowing full recharge within 3.5-4 hours. A pre-installed solar charging optimization module (MPPT) in the AC200P allows up to 40% faster charging from the solar panels.
Capacity:2000Wh (LiFePO4 cell)
AC Load: Continuous 2000W(2000W<load<2500w@2mins,surge 4800W)
Solar input: OCV 35-150V/ 700W Max./ 12A Max. Solar charge: MPPT
AC input: one adapter (500W) or two adapter (1000W) recharging.
Car input: 12V/24V
USB-C: PD 60W (5V,9V,12V,15V,20V,3A)
25A RV: DC12V/25A
Car Port: Regulated 12V
BLUETTI AC200P Review
What I like.
It holds a lot of power 2000W with a GIANT 4800W surge. I've tested it and it will start a small AC window unit or RV AC.
The top has 2 18W wireless chargers so if you have a newer phone No need to worry about cords.
The HUGE 700 W with 150V solar input is my FAVORITE. This blows everyone else out of the water. What good is a solar generator that can't take more than 400W and over 120volts?
You can put 400watts thru the AC adapter and 700W input via solar for crazy fast charging.
The aviation solar cable is wonderful quality, like nothing on the market, you can NOT pull it out on accident
The touch screen is brilliant, bright, and has all the information you would ever want even tracks errors.
The LiFePO4 batteries can be recharged 3500++ times. If you don't overcharge or run it down too far like all LiFePO4 keep between 40%&80% charged it will outlast the other components on the device.
If you have an issue the customer service team is wonderful to deal with but there was a language barrier.
What I Don't like.
It does not include the DC7909 to XT90 cable for dual AC adapter charging.
It does not include the 25 amp RV port cable.
The AC adapter for wall charging is rated at 411 watts and listed as 400 watts on the website, but you will not get more than 380 watts out of it. My friends have the same ones and they have the same results.
This is what I dislike the MOST. If you are only powering a portable fridge ( mine is the Iceco LV60 & I highly recommend it, Danfrost compressor ) or anything under 50watts ECO mode will shut it off. My Fridge is super efficient and only draws about 37 watts for 15 min an hour. The eco mode of the thing drains power. I think due to the inverter but not sure. I do know that the Maxoak 1500 or 2400 ( I have both ) will power small appliances for much, longer. But they don't compare to this overall.
Final Words
Bluetti AC200P Product Review – The AC200P is the first product from Maxoak/Bluetti that uses Lithium Iron Phosphate (LiFePo4) batteries. All earlier models were built around Lithium-Ion batteries. LiFePo4 batteries are safer and they last longer. That is, if you treat them right, they will continue to provide at least 80% of their rated capacity for 1,000-2,000 full charging cycles. The AC200P will likely exceed even that because the unit is designed to cut off the outputs and charging cycle so that you can only use 90% of the battery's actual capacity. This is a good tradeoff between usable capacity and life extension. And, the AC200P battery is 48 volts rather than the 12 volts of most solar generators. That should translate into a more reliable, longer-lasting AC inverter since it doesn't need to boost the voltage as far and thus keeping the current lower.
View More Bluetti AC200P Helpful Review
Other Articles Review